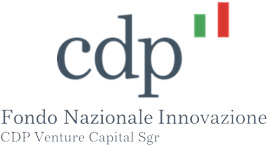 CDP VC
CDP Venture Capital is a venture capital firm which currently manages 13 active funds totaling more than 3.8 bilion euros of assets under management. It aims to make Venture Capital a cornerstone of the country's economic development and innovation, creating the conditions for an overall and sustainable growth of the Venture Capital ecosystem.
READ MORE

Evotec SE
Evotec is a drug discovery alliance and development partnership company focused on rapidly progressing innovative product approaches with leading pharmaceutical and biotechnology companies, academics, patient advocacy groups and venture capitalists. The Company operates worldwide and provides the highest quality stand-alone and integrated drug discovery and development solutions from target to clinic. Evotec has established a unique position by assembling top-class scientific experts and integrating state-of-the-art technologies as well as substantial experience and expertise in a broad range of therapeutic areas.
Evotec has created a new paradigm to translate early-stage academic research to drug discovery and development called "BRIDGE" (Biomedical Research, Innovation & Development Generation Efficiency), an integrated fund and award framework to tap into exciting academic science to accelerate the formation of spin-out companies and generate partnerships with Pharma and biotech. More recently, Evotec has evolved its BRIDGE approach by adding a novel, cluster-type BRIDGE called "beLAB". For additional information, please go to www.evotec.com and follow us on Twitter and LinkedIn.
READ MORE

Angelini Ventures
Angelini Ventures is the corporate venture arm of Angelini Industries, a multi-business Italian industrial group which operates in 21 countries with 5,800 employees. Angelini Ventures build and invest in companies that develop innovative ideas and solutions in digital health and life sciences.
Angelini Ventures invest across Europe, North America, and Israel with a focus on brain health and consumer segments such as women, children and the elderly. The group is headquartered in Rome, Italy with a global team distributed across multiple innovation hubs.
READ MORE